Brenda Boylan PSA, NPS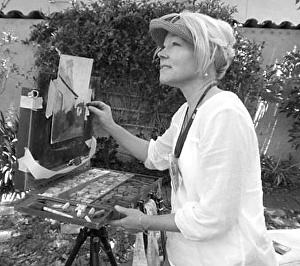 Biography
Growing up on the southern California coast, Brenda Boylan lived in humbling conditions often exercising her imagination with every available art material to feed her creative muse. Because of the warm coastal weather, a great majority of her time was spent sketching outdoors as she discovered her surroundings either on the shoreline, in the desert canyons, or eucalyptus groves. These places are embedded deep in her memory as her most joyful times, causing a strong desire to drive her life's direction into the field of art. Rising above many challenges, she earned her way through college and earned a B.S. degree from California Polytechnic State University in Applied Art and Design.
In the height of the 80's, Boylan began her artistic career as a graphic designer in Oregon creating designs for high profile sportswear clients such as NIKE, Adidas, Columbia Sportswear, and Avia. In 1994, seeking a more flexible and rewarding schedule, she carried her sense of balance and design over to a fine art career painting in pastel or oil, quickly earning her the distinction of Signature Memberships with the Pastel Society of America and the Northwest Pastel Society. Her biggest joy is the practice of plein air painting on location in organized plein air events as well as teaching pastel workshops.
Her work has been displayed at The National Arts Club NYC, the Butler Institute of American Art Museum, The Oregon Historical Museum, The Portland Art Museum, and the Favell Museum. Recently, Brenda's work has received national attention in The Pastel Journal (Front cover, Dec 2014), Southwest Artist Magazine Aug 2013, Plein Air Magazine April 2012, , The Best of America Pastel Series II and she was a Featured Artist at the 2nd and 3rd Annual Plein Air Conventions in Monterey, CA.
Boylan is currently represented by The American Art Company in Tacoma, WA., Brian Marki Fine Art in Palm Springs, CA., Earthworks Gallery in Yachats, OR., Art Elements Gallery in Newberg, OR. and Attic Gallery in Portland, OR. She currently resides in Portland, Oregon with her husband and two children.
Artist Statement
Painting is my refuge and my source. It is where I lose myself and find myself, again. As I layer pigment down in the form of pastel or oil, I am transformed to another level of consciousness, much like meditation, where I develop a joyful, poetic conversation with my subject. Each painting measures another step in my journey as an artist that often results in a never ending discovery of my visual world. Working both outdoors and in my studio provides room to communicate color relationships, light, and form. This desire to create and interpret what I see around me is a gift, a treasure, and the roadmap to my best and truest self.
Professional Affiliations
Signature Member Pastel Society of America Aug 2011- present.
Member Laguna Plein Air Painters Association May 2013-present.
Associate Member American Impressionist Society May 2012-present.

Signature Member Northwest Pastel Society April 2007- present.
Member Beaverton Arts Commission Sept. 2000-present.


Selected Awards and Recognition
President's Award, Pastel Society of America, Sept 2014
Outstanding Pastel. FASO Bold Brush, Aug 2014
Award of Excellence, Yamhill Plein Air, July 2014
Honorable Mention, Los Gatos Plein Air, June 2014
Second Place Award, Pacific Northwest Plein Air, Sept 2013
Best of Show, Purchase Award Lake Oswego Festival of the Arts, June 2013
Best Farm Scene, Pacific Northwest Plein Air, Sept 2012
Second Place and Honorable Mention, Yamhill Lavender Plein Air, July 2012
Third Place Award, Los Gatos Plein Air, June 2012
Pongson Espada Memorial Award, Northwest Pastel Society 25th Annual International, Nov 2011
Pastel Painters of Hawaii Award, Pastel Society of America 39th Annual, Sept 2011
Honorable Mention Award, Pacific Northwest Plein Air Festival, Aug 2011
1st Place Award, Yamhill Lavender Plein Air Festival, July 2011
Blue Ribbon Award, Lake Oswego Festival of the Arts, June 2011
Peoples Choice, Pacific Northwest Plein Air, Aug 2010
Best in Marine, Pacific Northwest Plein Air, Aug 2010
Kitty Wallis Award of Merit, Northwest Pastel Society International Show, July 2009
Honorable Mention, HIllsboro Plein Air event, July 2009
Honorable Mention Portland Plein Air & Studio Painters 4th Annual Show. Sept 2008
Honorable Mention Art Spectrum Colourfix Challenge, July 2007
Member's Choice EBSQART.com Flower of the Month Show, Aug 2005, 2007
Jurors' Choice EBSQART.com Reflections Show, May, June 2005
Peoples' Choice, Beaverton Arts Showcase, Feb 2002
Selected Group & Solo Shows
ART Elements Gallery, The Verdant Valley Solo Show, Nov 2014
Pastel Society of America, 42nd Annual Exhibition, New York, NY. Sept 2014
Portland Art Museum, Plein Air Invitational, Portland, OR. Aug 2012, 2014
Pacific Northwest Plein Air, Hood River, OR., Aug 2010, 2011, 2012, 2013, 2014
International Association of Pastel Societies, IAPS Annual Show, Butler Museum, OH., July 2010, 2014
Door County Plein Air Invitational, Door County, WI. July 2014
Los Gatos Plein Air, Los Gatos, CA., June 2011, 2012, 2013, 2014
Lake Oswego Festival of the Arts, Lake Oswego Chronicle, Lake Oswego, OR., June 2011, 2013, 2014
Beaverton Arts Showcase, OR., Feb 2002, 2007, 2012, 2014
Favell Museum Invitational, Favell Museum, Klamath Falls, OR, Sept 2013
Plein Air Showcase, Art Elements Gallery, Newberg, OR. Sept 2013
Plein Air Easton!, Easton, MD., July 2013
Laguna Plein Air Painters Association, Annual Best of Plein Air Show, July 2013
American Impressionists Society, 13th National Juried Exhibition, Indaianapolis, IN., Nov 2012
,Caswell Gallery, Passages Solo Show, Troutdale, OR., June 2012
Trilogy Quick Draw Invitational, Allison Resort, Newberg, OR., May 2012
NPS Annual Pastel International, Northwest Pastel Society Tacoma, WA., May 2009, 2010, 2011, 2012
Randy Higbee Gallery, 6 Inch Squared, Costa Mesa, CA., Dec., 2011, 2012, 2013
Butler Museum Pastel Invitational, Pastel Society of America, Youngstown, OH., Dec 2011
Pastel Society of America Annual, National Arts Club, NY, NY., Sept 2011, 2014
Signature Member Show, Northwest Pastel Society, Scott Milo Gallery, Anacortes, WA., Aug 2011
Trilogy Quick Draw Invitational Allison Resort, Newberg, OR., May 2011
Seven Wonders of the West, American Art Company, Tacoma, WA. May 2011
Cityscapes, Caswell Gallery, Troutdale, OR., May 2011
Celebration Oregon, Plein Air Painters of Oregon, High Desert Gallery, Bend, OR. Oct, 2009
Portland Open Studios Tour, Portland, OR., Oct 2005, 2006, 2007, 2008, 2009
Portland Plein Air & Studio Painters 4th Annual Show, Portland, OR., Sept 2008
Publications
The Pastel Journal (Cover Story) Dec 2014
Outdoor Painter Online, Nov 2013
SouthwestArt, Aug 2013
SouthwestArt, Nov 2012
Outdoor Painter Online, Sept 2012
Outdoor Painter Online, June 2012
Outdoor Painter Online, June 2012
Outdoor Painter Online, May 2012
Plein Air Magazine, May 2012 Issue
Best of Artists, Pastels II, Kennedy Publishing, 2009
Jury Appointments
Gateway to Sedona, Oct 2014
Umpqua Plien Air, Sept 2013
Painter's Showcase, Sept 2013